1/12/2014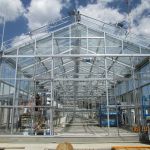 CMF was selected by the international maize and wheat improvement centre (CIMMYT) to achieve the first biotechnology research greenhouses in Latin America.
Integrated within a large laboratories complex, situated 45 km from Mexico City, the humanitarian site was officially inaugurated on February 13th in the presence of Bill Gates, Carlos Slim, and a Mexican delegation.
"BIOTECNOLOGÍA" : a 1 577 m² greenhouse for wheat and maize genetics research.
"BIOSEGURIDAD" : a 400 m² biosafety cleanroom with greenhouse effect, the assembly of which is over since July 2013.