Housing
Bioclimatics applied to living spaces
As a designer of glazed buildings, structures and linings in terms of housing, CMF Building applies its unrivalled expertise to natural climate management (greenhouse gas control, natural ventilation, double hull structure supporting thermal performances and sound insulation) for your living space project, large glass roof, winter garden, pool enclosure, patio, etc.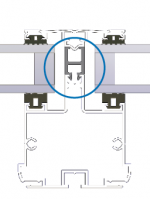 ECO KLIMA, the CMF technical answer applied to housing.
Thanks to its thermal performances and its sealing qualities, ECO KLIMA, a new range of aluminium frames with thermal breaks allows for better climate control in your buildings. Natural aeration, greenhouse gas control and the integration of efficient glazing are the main advantages of ECO KLIMA.