Gardening
Between heaven and earth, CMF brings your gardening project to life
A major player in climate control for over 50 years, CMF designs and achieves your garden project incorporating innovative and aesthetic solutions for naturally ventilated and bright sales spaces.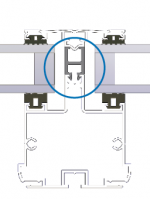 ECO KLIMA, la réponse technique CMF appliquée aux jardineries, verrières mais également aux serres de recherche. 
Thanks to its thermal performances and its sealing qualities, ECO KLIMA, a new range of aluminium frames with thermal breaks allows for better climate control in your buildings. Natural aeration, greenhouse gas control and the integration of efficient glazing are the main advantages of ECO KLIMA.
An organisation founded on strong values
A close relationship with customers,
A structure specialised in the garden construction,
A sales team dedicated to your project,
A network of specialised construction supervisors,
A process of continuous innovation.
By your side throughout the project
CMF can ensure the monitoring and achievement of your project:
definition of a pre-project draft,
research, design and implementation of plans,
business consultations,
implementation and monitoring of sites,
racceptance of the works,
installation of equipment,
after-sales services.