1/12/2014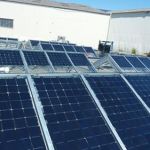 For this new edition of the Solar Decathlon 2014 contest, CMF is partner of "Atlantic Challenge" a team from Nantes, that participates in the Solar Decathlon Europe 2014 competition, which will take place in France in Versailles from June 27th to July 14th.
This international competition has been created to develop emulation, innovation,transmission of knowledge and research in the field of renewable energy and especially passive, bioclimatic and solar energy housing. It rewards the best solar house achievement, assessed over a dozen of tests.
The Phileas project developed by the Atlantic Challenge team aims to propose some rehabilitation works for an old building in Nantes, Cap 44.